---
► TRIAL LISTENING – 試聴
kita kouhei 4th Full Album "Head Towards The Horizon Of The Sandy Sea" Digest
– Ambient , Drone , Experimental Music , Electronic , –
---

〜以下、PROGRESSIVE FOrM 公式サイトより抜粋〜

『京都を拠点にパーカッショニストとして確固たる地位を築く評価の高いサウンド・アーティスト北 航平、その待望となる4thアルバム『Head Towards The Horizon Of Sandy Sea』が完成!』
『前作『Imbalance Order And World』が<動>なら、本作は<静>。アルバムタイトルでもあるM2を筆頭に、全体に流れる淡々と進み行く航海には静かに秘めた熱量を感じさせる。
これまでの持ち味である緻密でスリリングなリズム構築や心を揺さぶる悲しげな旋律はそのままに、今回は世界的にも非常にレアでとても美しい音色を奏でる楽器「アレイムビラ」(カリンバの一種)を更に全面的にフィーチャー、またアルバム全編通して、楽器、非楽器、環境音など、ほぼ生音で構築されており、空間を一変させる様なアンビエント的な優しさをも併せ持った音響芸術作品へと昇華させている。
またM8「Translucent She And The Fact」、M9「I Can Not Remember Blue」は、60年代~70年代前半のジャズを彷彿とさせ、ゆったりとした心地良いグルーヴと寂寥感を感じさせる秀逸の出来映えである。
「今回は、自然の風景や環境音を含め普段意識しない空気や水のようにナチュラルに誰もが共存できる<日常の空気を豊かにする音楽>を紡ぎたい。かつ細部まで丁寧に作り込まれたアートを感じるものにしたかった。」という言葉の通り創られたのがタイトル曲でもある「Head Towards The Horizon Of Sandy Sea/砂の海の水平線へ向かう」であり、まっすぐ水平線に向かって進んでいくという意思と世界観が表されたアルバムとして永遠に続く崇高な響きは特筆に値する。』
---
If the previous work "Imbalance Order And World" is "dynamic", this work is "static".With the same title song M2 as the lead, the voyage going on all the way is felt quietly feel the amount of heat secret.Array Mbira "(a kind of kalimba), which is very rare and beautiful in tone color, and is fully featured, and his precise and thrilling groove and heartbreaking sad melody continue as before Has been done. Throughout the album, it has been constructed with raw sounds such as musical instruments, non-musical instruments, environmental sounds, etc. It sublimates into a work of art that feels ambient tenderness that transforms space.In addition, M8″Translucent She And The Fact" and M9″I Can Not Remember Blue" make it reminiscent of the jazz of the 60 's and early' 70 's, feeling relaxed comfortable groove and loneliness."This time, I wanted to make music that enriches the daily air that everyone can coexist naturally like air and water that I do not usually conscious, such as landscapes and environmental sounds, and was carefully built into details I wanted to feel something that feels art. "It expresses intention to go straight towards the horizontal line.
---
kita kouhei 4th Album YouTube -trial listening 試聴→
ご購入ページ -Click here to purchase♪
neuf label Online Shop -Japan
neuf label Online Shop -World
---

► 北 航平_kita kouhei 4th Ful Album『砂の海の水平線へ向かう – Head Towards The Horizon Of Sandy Sea』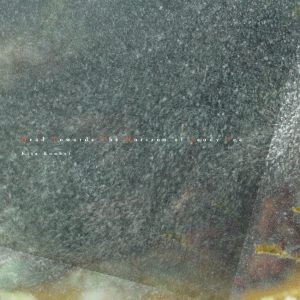 01. Whisper Of Dawn – 夜明けのささやき – 04:24
02. Head Towards The Horizon Of The Sandy Sea – 砂の海の水平線へ向かう – 06:06
03. Koh-I-Noor – コ・イ・ヌール – 05:10
04. Rain Falls On A Lotus Flower – 蓮の花に雨は降る – 05:15
05. Infiltration – 浸潤 – 05:14
06. Chaos Of Inspiration – 閃きの混沌 – 04:36
07. His Conviction – 彼の確信 – 05:32
08. Translucent She And The Fact – 半透明な彼女と事実 – 04:36
09. I Can Not Remember Blue – 思い出せないブルー – 04:43
10. Responding Life – 命の呼応 – 05:36
---
– クレジット –
All Songs Written, Composed, Performed Mixed and Produced by Kita Kouhei
Recorded at Studio Guzli, Kyoto, Japan 2017-2018
Array Instruments Array Mbira Royal Mahogany Four-Octave, Hugh Tracy KALIMBA Alto 15note G,
Rav Vast Drum Melodic Steel Tongue Drum A-Integral Scale, Yamaha UprightPiano (old), YAMAHA Xylophone YX-35D,
Sonor DrumSet DesignerSeries Birch Bd 20×16 Ft 14×14 Tt 10×9, Sonor Snare ArtistSeries Birch 12×4, Sonor Snare ArtistSeries Beech 13×4,
K Zildjian Hi-Hats 14, RemixSeries Hi-Hats 12, RemixSeries Breakbeats Ride 18, K Zildjian Custom Dark Crash Thin 17, K Zildjian Dark Crash Thin 18,
Rope Tuned Wood Djembe, Rainstick, TreeWorks Windchime Tw-Tre23, LP Finger Cymbals LP436, And All Artistic Living Environment Sounds.
Except
M3, 4, 6 and 8 Vocal, Chorus and Voice by Takayama Naoko a.k.a. Carneiro
Mastered by Chihei Hatakeyama
Artwork and Design by Sawada Teppei
Photography by Yukie
Translated by Taba Shiho
All Songs Titled by Takayama Naoko a.k.a. Carneiro
---
► INTERVIEW – インタビュー掲載記事
音楽ニュースサイト 『indiegrab』 にインタビュー記事が掲載。
アルバムのコンセプトや、本作におけるメインの使用楽器となるアレイムビラとの出会い、
音作りや楽曲の制作秘話、また映像制作についてなど多岐にわたるロングインタビューを掲載。
---