---
► TRIAL LISTENING – 試聴
kita kouhei 5th Full Album "Mime Sketch" Digest
– Ambient , Drone , Experimental Music , Electronic , –
---
『緻密で自由なアンビエント・アート!レア楽器アレイムビラを駆使したどこまでも広がるアンビエントの世界観と、抽象画の様な個性的なリズムセンスは必聴!
ゲストにピアノ・平井真美子氏、マスタリングにChihei Hatakeyama氏を迎える。』
---
『静かな内省から生まれたサウンドスケープは、心の闇に降りていったかと思えば、ふわりと遥か上空まで浮かび上がる。ごく個人的なはずのそれはいつしか「自分」と「誰か」の区別さえ超えて、自由自在に繋がり広がり続ける。レア楽器アレイムビラを中心に厳選された音の全ては、繊細な微粒子となり、浸透し、縮こまった心の皴を伸ばしてゆく。
また本作は、映画やCM・TV番組等の音楽を多数手掛け、音楽に命を吹き込む卓越した演奏力を持つピアニスト・音楽家の平井真美子氏がゲストで2曲参加。清らかな奔放、時に静かな情熱を爆発させる舞踏家のような演奏で、彼女と暮らす3羽の鳥たちの囀りと共に本作に彩りを与えている。
そして、これまでの全てのソロ作品と同様に、マスタリングには世界的アンビエントアーティストChihei Hatakeyama氏を迎え、コーラスと全曲のタイトル考案にはcoconoeの高山奈帆子が引き続き参加し、ジャケットはサウンドイメージをより深く想起させるアートワークを北航平自ら手掛ける。』
---
The soundscape, born from quiet introspection, floats up to the sky, as if it had fallen into the darkness of the heart. It should be very personal, and eventually it goes beyond the distinction between "self" and "someone" and continues to connect and spread freely. All of the carefully selected sounds centered around ArrayMbira become delicate fine particles that permeate and smooth out the wrinkles of the shrunken heart.
In addition, Mamiko Hirai, a pianist and musician who has worked on a lot of music for movies, CM / TV programs, etc. and has outstanding playing ability to bring music to life, participated in this work as a guest. A pure, unrestrained, sometimes quiet, butoh-like performance that explodes with passion, adding color to this work along with the singing of the three birds that live with her.
And, like all the solo works so far, the mastering will welcome world-famous ambient drone artist Chihei Hatakeyama. The chorus and the title of all songs will be devised by Takayama Naoko (coconoe). Kita Kouhei creates the artwork design that evokes the sound image more deeply.
---
ご試聴ページ -Trial listening♪
kita kouhei 5th Album YouTube→
ご購入ページ -Click here to purchase♪
neuf label Online Shop -Japan
neuf label Online Shop -World
TowerRecords -Japan
Amazon -Japan
---
► 北 航平_kita kouhei 5th Ful Album『マイムスケッチ – Mime Sketch』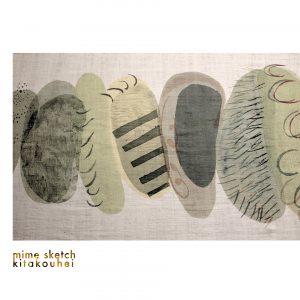 01. 奇術師 – Illusionist – 03:17
02. マイムスケッチ #1 – Mime Sketch #1 – 03:30
03. マイムスケッチ #2 – Mime Sketch #2 – 05:14
04. 時の回廊 – Time Corridor – 05:50
05. 猫と海岸線 – The Cat And Shoreline – 06:51
06. フライトマインド – Flight Mind – 07:03 *
07. 白い貝殻の道 – Path Of White Shells – 06:50 *
08. 月の水琴窟 – SUIKINKUTSU in The Moon – 06:24
09. 墨染めの夜 – Dyed Black Night – 06:31
10. 生まれる前の記憶 – Memories Before Birth – 08:21
北 航平 – 作曲 / 編曲 / 打楽器全般 / アレイムビラ / カリンバ / ピアノ / アナログシンセ 環境音 / プログラミング / レコーディング / ミキシング / アートワーク
*06 & 07 feat. 平井 真美子 – ピアノ / プリペアドピアノ / 環境音
---
– クレジット –

all songs written, composed, performed, mixed and produced by kita kouhei

recorded at studio guzli, kyoto, japan 2019-2021
except : chorus, voice (track 2, 3) and all songs titled by takayama naoko a.k.a. carneiro
voice and purring sound (track 3, 5) by cello the cat
electric bass (track 3) by shingo mimura
chorus (track 3) by : saori tsutsumi
chorus (track 3) and photo by : tano shirou a.k.a. najuta
child laughter (track 3) by : yamada kai
piano, prepared piano (track 6, 7) by mamiko hirai
voice (track 6, 7) by matinée, journée, soirée
mastered by chihei hatakeyama
artwork drawn by kita yukie
artwork designed by kita kouhei
released by neuf
---