---
► TRIAL LISTENING – 試聴
coconoe 2nd Full Album "The Dolphins' Long Dream" Digest – Ambient , Drone , Chillout , Experimental Music –
---
『まるで柔らかい水に身を浸すかのような、心とからだを内側に開放し世界とつながる57分間。』
生きるために何が必要か、何が最優先か、そんな問いの中でささやかな音楽など、掻き消されてしまいがちな今。その中で愛しむべき小さな音を丁寧にすくい取り、音楽家としての静かな営みを止めないcoconoe (ココノエ)の、自粛期間中から制作された2ndアルバム『イルカは長い夢をみる』。
彼らの特徴である、日常音や楽器以外の音の生み出す彩や、アンビエントミュージックに不思議にマッチしたボーカルが前作『或る日のhalo』同様に楽しめる。それに加え今回は、元来楽器の優れたプレイヤーであるメンバーの強みを生かし、インプロビゼーション的要素を多く取り入れており、その場の空気や偶然をそのままパッケージした呼吸を感じる仕上がりとなっている。
グラスの音など、生活から生まれる聞き覚えのある音のカケラたちと、漂うような日本語のリリック、オーラブル・アルナルズ的なミュートピアノ、カセットMTRを使用した独特の歪みのある音色、それらの全てが、なんとも言えない安心感と少しの切なさを含んだノスタルジーを生んでいる。1曲あたり10~15分の長尺にも関わらず、決して退屈さを感じさせないのは何故だろう。
日本に数台しかないレア楽器・アレイムビラや人の声などから手作りされた暖かみのある音色のドローン的要素も手伝って、アルバムを通して存在している大きく包み込む何かが、すんなりと身を委ねさせてくれる。
簡単ではなくなった日常だけど、心の『内なる扉』をそっとひらけば、実は広い世界と繋がった場所があるのだ。自然と共にめぐる季節・想い出・豊かな生命がそこにあることを思い出させてくれるアルバム。ただただ、心とからだを浸してみて欲しい。
---
Like 57 minutes of immersion in soft water. Open the "inner door" of your heart and connect with the world.

coconoe's second album, produced during lockdown due to the COVID-19 global pandemic
Familiar mundanities such as the sound of glass, floating Japanese lyricism, soft muted piano, unique tones distorted via cassette-tape, plucks on the rare arraymbira (one of only few in Japan)… a meeting place of these, The Dolphins' Long Dream encompasses a nostalgia with an ineffable sense of security and a hint of sad longing.
Furthermore, this work encapsulates the very atmosphere and the serendipitous essence of improvisation. The overall experience resembles that of breathing itself.
Along with the loose length of each song and a gentle sustenance, the album is enveloped by a ubiquitous je ne sais quoi that will surely put your heart at ease.

While everyday life is no longer easy, if you gently creak open the "inner door" of your heart, you will find a place that connects you to the wider world.
A testament to the power of music, this album makes one reminiscent of all that we experience as one with nature: from the seasons, to memories, to richness of life. What is it that you need to live? What is your top priority? Amid such musings, where it is easy to drown out trifling music, it is our hope that you can immerse your mind and body in our sound.
---
► coconoe(ココノエ) 2nd Ful Album『イルカは長い夢をみる – The Dolphins' Long Dream』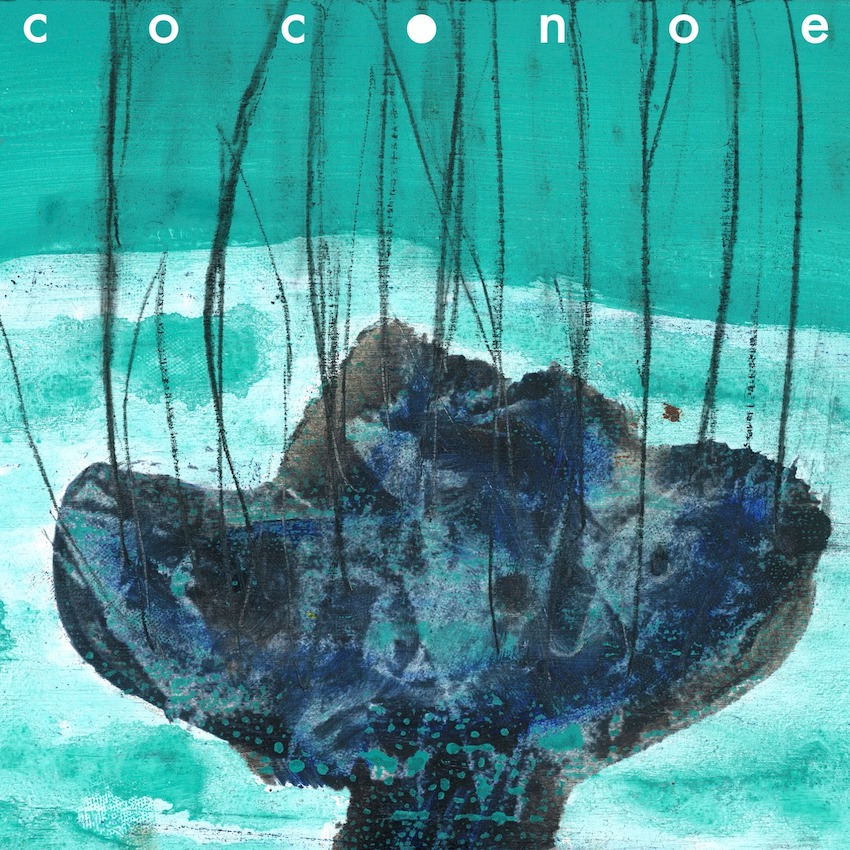 01. イルカは長い夢をみる – The Dolphins' Long Dream – 15:12
02. 夏にたゆたう – Adrift in Summer – 10:21
03. 太陽の階段 – Stairway to the Sun – 15:25
04. 朝露 – Morning Dew – 15:20

---
– クレジット –
all tracks produced by coconoe
kita kouhei : drums, arraymbira, kalimba, and all percussions
shingo mimura : piano, upright bass, electric bass, guitar
takayama naoko : vocal, chorus
except : crunchy sound by : cello the cat (track 1)
chorus by : saori tsutsumi (track 3)
chorus by : tano shiro (track 3)
recorded at studio guzli, kyoto and akari records, kobe 2019-2020
mixed by kita kouhei
mastered by shingo mimura
translated by alison watts (tracks 2&3, and all titles) and marian kinoshita (track 1)
translation support by : yoichiro tachibana
artwork drawing by unno atsutaka
artwork design by kita kouhei
released by neuf
---